HD dual-screen advertising machine industrial control board
HD dual-screen advertising machine industrial control board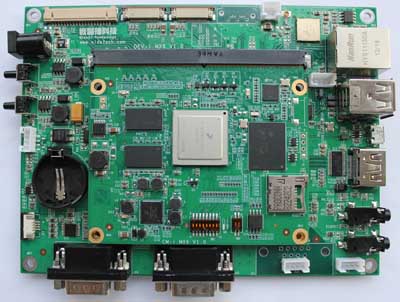 I. Overview
Super performance: Adopt Freescale's i.MX6 super functional processor, support single core, dual core and quad core, and support HD codec.
Two-channel HD video playback: Two-channel 720P HD video playback (synchronous or asynchronous).
ubuntu12.04 operating system: the widely used Ubuntu 12.04 operating system, you can directly install the existing Ubuntu 12.04 application software.
二、框图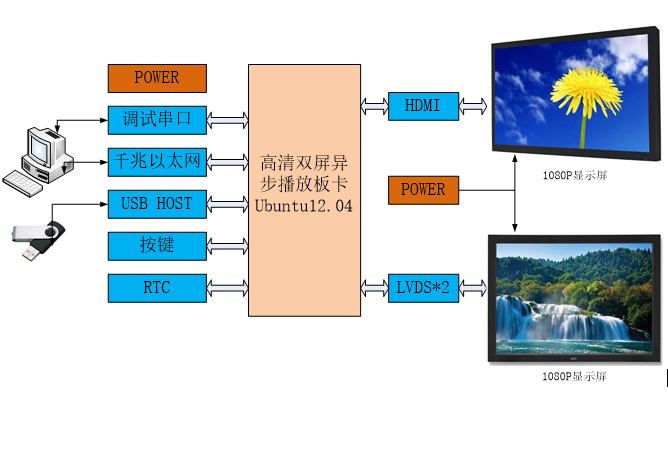 三、功能列表
| | |
| --- | --- |
| 处理器 | Freescale's i.MX6Q CPUs: ARM Cortex A9, each @ 1GHz |
| 内存 | 1GB DDR3 |
| 存储器 | 4GB eMMC Flash |
| 存储卡 | 一个TF卡 |
| HDMI输出 | HDMI高清输出,显示支持1920x1080x60HZ ,视频播放最大支持1080P,两路异步视频播放最大支持720P。 |
| LVDS*2 | 显示支持1920x1080x60HZ ,视频播放最大支持1080P,,两路异步视频播放最大支持720P。 |
| 网络 | 10M/100M/1000M以太网 |
| 电源管理 | 集成电源管理,多路电源输出,可动态调节输出电压 |
| USB HOST | USB HOST 2.0 |
| RS232 | RS232,调试使用 |
| 实时时钟 | RTC |
| 环境 | 0℃-60℃(-40℃-85℃可选) |
| 操作系统 | Ubuntu12.04 |



Four, applicable environment




It is widely suitable for video capture of military equipment graphics card, remote teaching system, remote conference system, smart home multimedia gateway.




Equipment operation recorder:




Remote teaching, remote meeting: